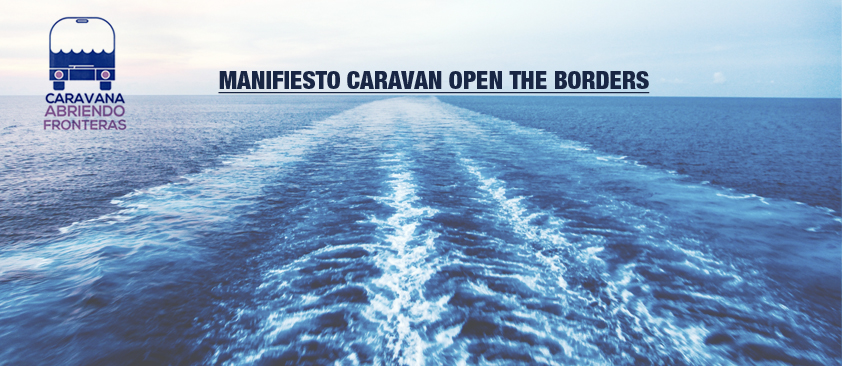 After travelling to Greece in 2016 and to Melilla in 2017, this year hundreds of activists are leaving from Salt (Girona) to Ventimiglia, at the France-Italy border and then to Sicily and Calabria. 
Once more, the Opening Borders Caravan,, composed of more than 100 groups from the Spanish Peninsula, wants to complain about the EU migration, economic, trade and environment policies. Decisions that expose millions of people in the Southern Countries to a constant ceaseless despoilment of resources and economic, employment and environmental exploitation. Policies that led to the impoverishment and displacements of millions of people. Policies that contribute to producing political instability, failed governments, war and hunger along with drought and other climate catastrophes. Policies that dehumanise migrant people, who are deprived of their rights and exploited as cheap labour. A recent example of this are the reports about labour and sexual abuses towards women from Morocco doing temporary work in the agricultural fields ofVittoria (Sicily)..
Human Rights violations in the European Union and in its 28 Members States are getting worse and worse.
It's enough to remember for instance the death of Segen, a young 24 years old Eritrean who arrived dehydrated and undernourished into Sicily after spending 19 months at the Detention Center in Libya. He died of hunger. Or the case of Soumayla Sacko, a 29 years old trade unionist from Mali who was shot dead. Or Mame Mbaye's death due to a heart attack after a police persecution through the streets of Madrid. He was a "mantero" (street seller) and activist of 35 years of age born in Senegal who spent 12 years in Spain without papers (documentation). Or Mawada Sahwri's death. She was a two-year-old little Kurdish girl  who was shot by a policeman in Belgium. She died alone in a hospital. Her family was locked in an Immigrant Detention Centre.. Or the death of at least 12 people in August 2017 and April 2018 when they were trying to cross the France-Italy border on a train or through a dangerous path through the mountain named as"the Pass of Death".
This kind of violence and institutional racism, in addition to the rise of xenophobia and racism, translates  into more and more repressive policies in countries like Italy, Hungary, Slovakia, the Czech Republic and Poland. The creation of an alliance against irregular immigration between Austria and Italy represents the latest chapter in this drift. Witnessing these facts, the same EU that disciplined Greece with its economic measures remains silent. It is an accomplice to the violation of rights such as the closure of Italian ports to stop NGO ships in the Mediterranean from disembarking people rescued at sea.
This year, the Opening Borders Caravan focuses its action on Italy, an important and dangerous entrance route for displaced people. Moreover, this country is playing a key role in the design of borders externalisation agreements with Libya and other countries, where human rights are systematically violated. In addition, the new Italian government has become a reference for anti-immigration policies that foster racism and xenophobia in European societies, and also increases the presence of far-right movements and political forces.
Furthermore, we want to report the return and readmission agreements with third countries in which human rights are not being respected. No person should be sent back to a country where they can suffer torture, persecution or threats to their life.
Externalisation of borders and return and readmission agreements benefit not only corrupt governments who don't respect human rights, but also mobs sometimes linked to or acting in connivance with political elites from those same countries. The UN High Commissioner for Human Rights has expressed his concern for this EU regulation to externalise its migration policies.
We also want to decry the harassment and criminalisation of people and solidarity organisations that work with migrant people. One of the latest examples is the law approved in Hungary, a law that criminalises and punishes with up to one year of imprisonment to those individuals or groups who aid immigrant people in irregular situations, even if that aid is to inform them or provide them with advice about how to apply for asylum.
In our opinion, European foreign policies are creating a state of exception with respect to human rights embodied by international law. This terrible and improper erosion of human rights protection standards establishes a situation of systematic violation of national and international law regarding the protection of the most fundamental rights of migrant people. The fact that the Mediterranean is becoming a mass grave or the sale of migrant men and women in Libya are the most brutish examples of this reality.
In addition to all of this the huge and constant growth in security and border control expenditure, which is generating a «border business», benefiting a small group of companies that monopolises most of the public tenders in this area.
Europe is far from being the main destination for refugee and migrant people. The vast majority seek shelter or opportunities in their own region. According to UNHCR data, none of the main countries of refugee-recieving countries is in Europe. Moreover, the EU member states are a long way from fulfilling their relocation and resettlement agreements for refugee people.
This is a feminist convoy. We want to raise awareness of the presence of women in migratory processes. We want to stress that women are protagonists and political subjects. Many begin their migratory experience as a strategy of resistance to situations of poverty, exclusion and violence in their countries of origin; poverty, exclusion and violence that they also face in transit and in the receiving countries.
Europe is not suffering a migratory crisis but a crisis of values.
Due to all of the aforementioned:
We want to highlight the protagonism of migrant people, break the frontier of indifference and reinforce solidarity networks among organisations, territories, peoples, communities and nations.
We demand that European governments approve policies that put the lives of all people and the sustainability of life and the planet before the interests of capital and the interests of a few.
We demand legal and safe routes for people in transit and we call for their rights to be guaranteed in the receiving countries, avoiding exploitation, abuse, violence, trafficking and human trade.
We demand respect for the provisions of international law, in particular the Geneva Convention in relation to refugees, of which France, Italy and Spain are signatories, and the laws that protect migrants. Human rights have to be the base of the pyramid of all policies, also of the migratory ones.
We call for the suspension of the signature and application of return and readmission agreements with countries that do not respect human rights.
We denounce the externalisation of borders with Libya, Niger or Morocco and the hot returns for violating international law.
We demand the dissolution of FRONTEX and the establishment of a maritime rescue operation in the Mediterranean.
We reject the manipulation of the speech against trafficking in human beings that is used for the sole purpose of carrying out repressive operations against those who migrate and those who help them. It is the border closure policies that push people to resort to unsafe roads; and it is the indifference of European governments that leads NGOs to take the initiative to comply with human rights and international conventions.
We demand the establishment of decent and effective reception policies, as well as the repeal of the Dublin Regulations that establish that the country that decides whether or not to grant asylum is the one where the traces of plaintiffs were first taken. We want to highlight examples of positive reception such as the Italian municipality of Riace, in Calabria.
We decry the sexual violence that women face in their countries of origin, in transit and in the reception countries.
We demand that:
Their rights be guaranteed in the reception countries avoiding exploitation, abuses and trafficking for sexual exploitation purposes.
Their right to apply for asylum independently from their partners and having a legal status independent from their partners be guaranteed.
Their specific health needs and sexual and reproductive rights be attended, including abortion.
Attention to women and girls who have suffered or are at risk of suffering abuse, violence, female genital mutilation or forced marriages be guaranteed.
We decry the violence and specific vulnerability that LGBTI people have to face in their countries of origin, in transit and in the reception countries. We demand:

A stop to the denial of protection applications alleging that these people could avoid persecution if they lived their sexual orientation or gender identity «with discretion».
That their specific health needs and their sexual and reproductive rights be attended.
That their right to use the name they identify with in all administrative documentation in the reception countries be recognised.

We demand attention for unaccompanied minors. We ask for measures to put a stop to the disappearance of these children and teenagers once they arrive to the EU. In addition, we demand that their rights be guaranteed, avoiding violence, abandonment and illegal returns out of the EU borders or between member states.
We demand that the specific guarantees for people in situations of special vulnerability established in the European Directive on common procedures for granting and withdrawing international protection be respected. This Directive states that people with specific needs (torture survivors or survivors from traumatic experiences, women who have suffered sexual violence, trafficking victims, minors, LGBTI people, etc.) should receive proper support, including the necessary time, in order to help them in the application process. It obliges the states not to study these cases as accelerated procedures, like those carried out at airports.
We require the closure of Inmigrant Detention Centres and the development of alternatives to coercive expulsions, always with special attention to the situation of rooting of the migrant people in our country.
We demand that the European Return Directive, known as the Directive of Shame, be abolished.
We demand regularisation processes for all those people who are in an irregular administrative situation in EU countries. We also want family reunions to be guaranteed.
We want the repression and police violence to stop and investigations with due diligence to be conducted on extreme far-right groups that chase, harass and murder migrant and refugee people.
We request that measures be taken to guarantee the rights and dignity of migrant workers in the EU, such as, for example, day labourers, both men and women, and domestic and care workers.
We demand that the media produce correct information about the migration issue, recognising migrant and people of other races, not as a threat but as holders of fundamental human rights.
We ask that the recommendations of the Permanent Peoples' Tribunal in its session on the violation of the rights of migrants and refugees from Palermo (December 2017) and Paris (January 2018), the proposals of the UN Rapporteur on his last report on enforced disappearances on the migration route (2017) and those of several non-governmental organisations, such as those of Amnesty International (report of December 2017) on the violation of rights in Libya be, in fact, followed.
We propose the approval of the Binding Treaty on the Control of Transnational Corporations and other companies in respect of Human Rights negotiated within the framework of the United Nations Council in Geneva.
We call on all citizens to join the mobilisations along our route in Catalonia, Ventimiglia, Sicily or Riace.
Abriendo fronteras
Aprendo frontiere
Mugak Zabalduz
افتحوا الحدود
Ouvrez les frontières
Open the borders
Obrim Fronteres